Recording with Panopto
Recording with Zoom
Editing a video
Copying and Moving Videos
Table of Contents
Permissions
Embedding Videos
6. Permissions
Panopto hosts the videos for us. Part of that hosting include handling permissions for the videos. This means unless you override these settings, videos in your course will not be view-able by students and teachers outside your class. You can change these permission on a per class basis.
The structure of permissions is similar to how Google Drive operates.
Note: permission settings are inherited from parent folders, so if you have an assignment folder for student assignments and change the parent "class" folder permissions, it will also affect the assignment folder.
With that said their are times you may want to add someone to a folder. To get to the Panopto folder settings from your Moodle class, locate the Panopto block in the right column. Click on "Course Settings."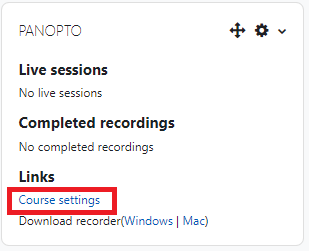 This will open your class's Panopto online video folder in a new window or tab, with the settings menu open. Click "Share" on the left-hand side.

You will see a list of participants, groups and classes that have permissions for this folder's videos. Below that you will see place to enter names to add to the permission list. Begin typing a name into the box. All EMU Students and Faculty will be searchable by first and last name.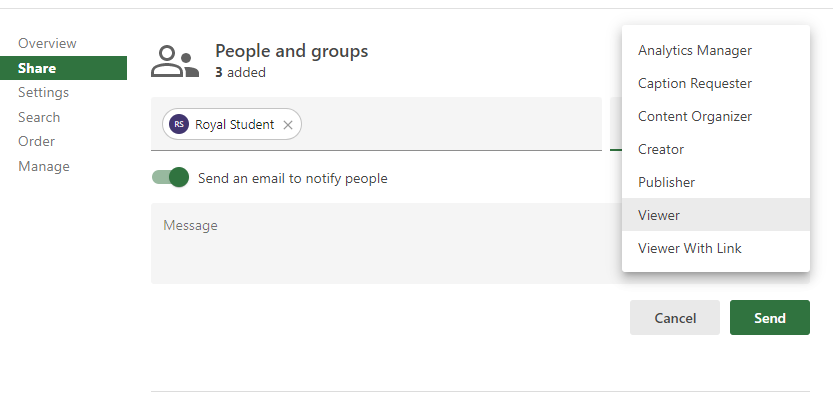 Click on the box that says "Viewer" to change the permission lever. The three possible levels are: Creator, Publisher, and Viewer. In most instances theViewer would be the only option needed. When you are ready click "Send" This will send the user a notification and save the setting in Panopto.